One Click Demo Import
You can either start building your site from scratch, or import one of our demo sites and then modify it to fit your needs. We will now explain how to do the latter.
Please, do not forget to install and activate all the required plug-ins.
Here's what you need to do:
Login to WordPress admin
Go into admin panel > Apperance > Import Demo Data
Choose the demo site that you wish to import and click on the "Import" button.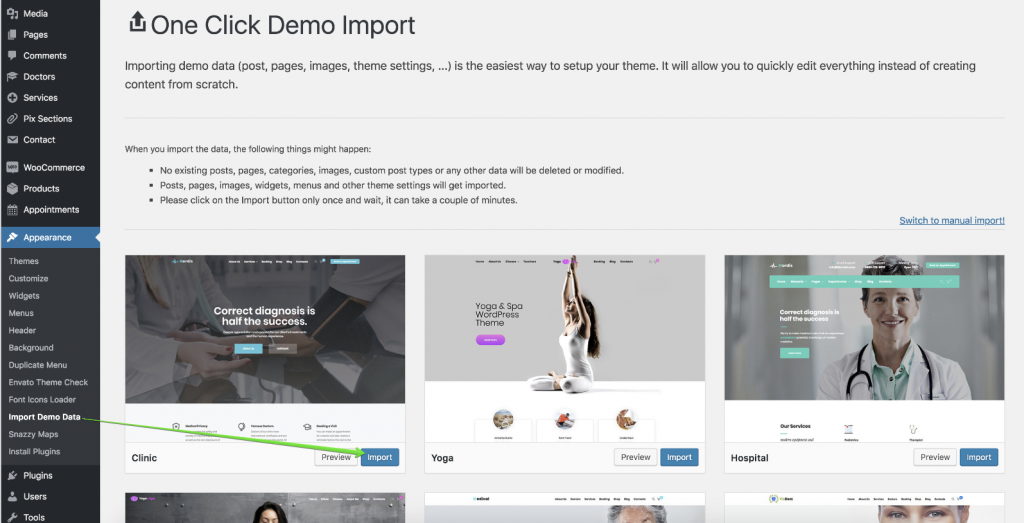 Default method import demo content
What you need to do is follow the instructions that are taken from the Importing Content page from the WordPress website. To import from a WordPress export file into your blog follow these steps.
How to Use the XML File to Import the Demo Site's Content
Log into your site as an administrator.
Make sure you activated your new theme before proceeding.
Go to Tools → Import
Choose "WordPress" from the list.
Upload the demo content/theme_name.xml using the form provided on that page.
You will be asked to map the authors in this export file to users on the blog. For each author, you may choose to map to an existing user on the blog or to create a new user.
You will then have the choice to import attachments, so click on the "Download and import file attachments" box.
Please be patient while WordPress imports all the content. Posts, Pages, Projects, and Menus are imported. You will need assign the menu a theme location & you'll need to configure widgets. This is a limitation of WordPress' import system. Enjoy!
Many issues that you may run into such as: white screen, demo content fails when importing, empty page and other similar issues are all related to low PHP configuration limits. You can check it by installing a simple plugin found here.
The solution is to increase the PHP limits.
You can do this by your own or contact your web host and ask them to increase those limits to a minimum as follows
max_execution_time 300
memory_limit 256M
post_max_size 32M
upload_max_filesize 32M